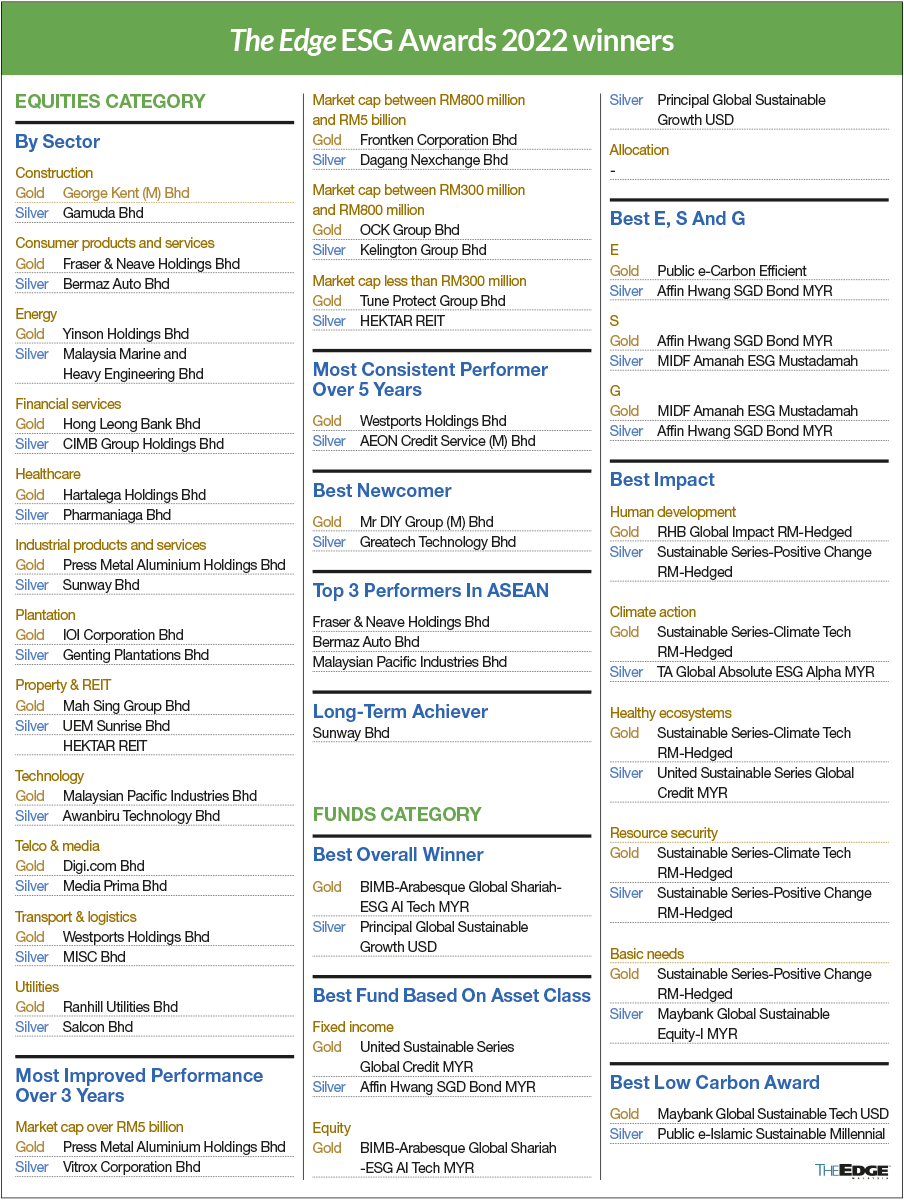 KUALA LUMPUR (Nov 28): The Edge's inaugural ESG Awards gala dinner, with the aim to recognise public-listed companies (PLCs) and asset management firms that are environmental, social and governance (ESG) leaders in Malaysia, was concluded on Monday (Nov 28) night, with a total of 65 awards presented to 44 companies.
Approximately 400 people attended the event held at Sunway Resort Hotel. Among the big winners of the night were Sunway Bhd, who won the long-term achiever award in the equities category, and AmFunds Management Bhd, who took home six awards (four gold and four silver) in the funds category. There are gold and silver winners for each of the five categories under the funds awards, and the six categories under the equities awards. 
Datuk Ho Kay Tat, publisher and group CEO of The Edge Media Group, said the momentum and pressure on businesses to adopt ESG have never been stronger because businesses that ignore ESG risk being shut out of supply chains or divested by major investors.
"[Businesses] might also find themselves unprepared for future risks like increased flooding due to climate change. On the other hand, ESG principles are crucial to develop strong, resilient companies. These are the companies that can deliver long-term values to their shareholders, consumers and other stakeholders," he said.
Shihan Abeyguna, head of business development for Morningstar Asia, shared that assets for sustainable funds in Malaysia totalled approximately US$700 million. The figure has doubled in the last two years. "The regulator [Bursa Malaysia] has led the way in ensuring that there are apt guidelines for the financial industry to manage ESG risks. In addition, Bursa was among the first in Asia to introduce SRI (sustainable and responsible investment) fund guidelines to protect investors. Now, there are over 60 SRI funds available for local wholesale and retail investors," he said.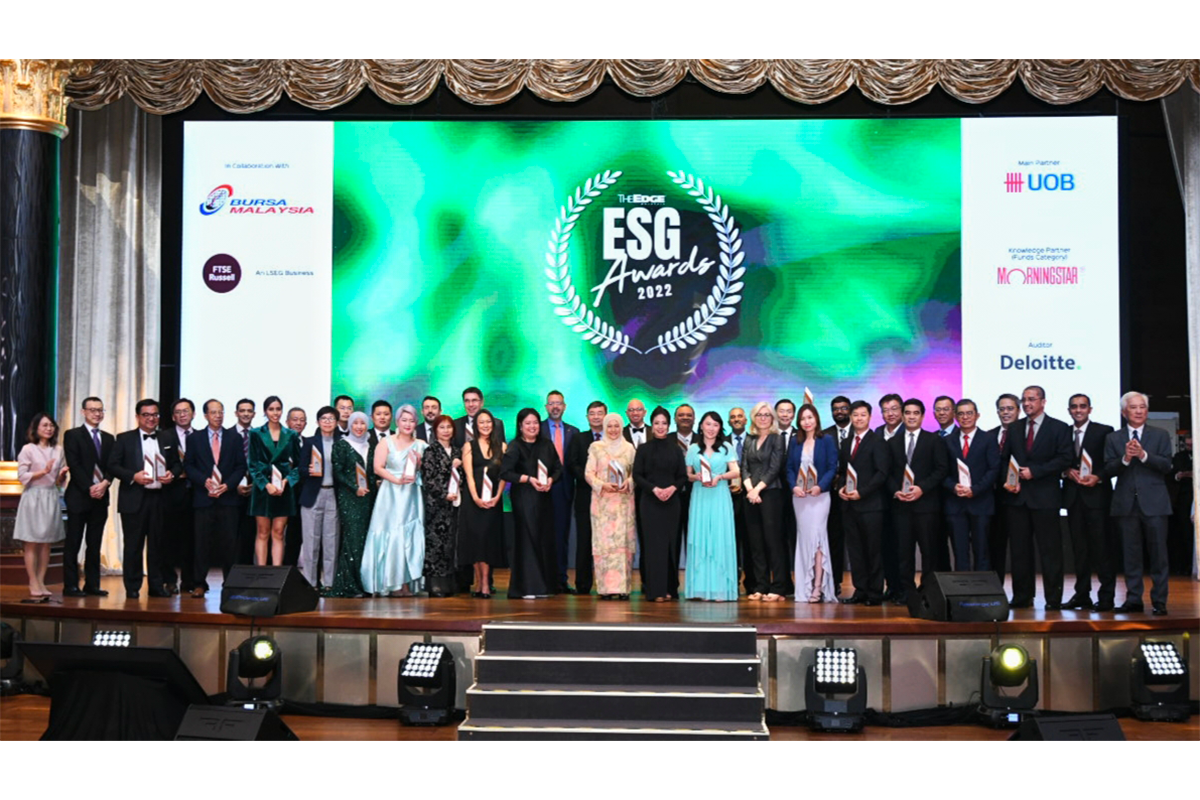 Winners of The Edge ESG Awards 2022 — equities category.
Helena Fung, head of sustainable investment for APAC at FTSE Russell, said The FTSE4Good Bursa Malaysia index has been an important benchmark of corporate ESG performance since its launch nearly eight years ago in December 2014. During this period, there has been a significant evolution, both in the importance and relevance of ESG and in the initiatives taken by Malaysian companies who have increasingly responded to the global focus of financial market participants on sustainability.
"We now have 87 eligible companies in the FTSE4Good Bursa Malaysia index, eligibility for which is based on meeting a specific ESG threshold for companies in emerging markets, in line with the globally-recognised FTSE4Good methodology," she said.
Bursa Malaysia CEO Datuk Muhamad Umar Swift said while Monday's award ceremony recognised ESG achievements in the past, it is time to look ahead at how ESG practices can be embedded not just in securities, but among small and medium enterprises (SMEs) as well.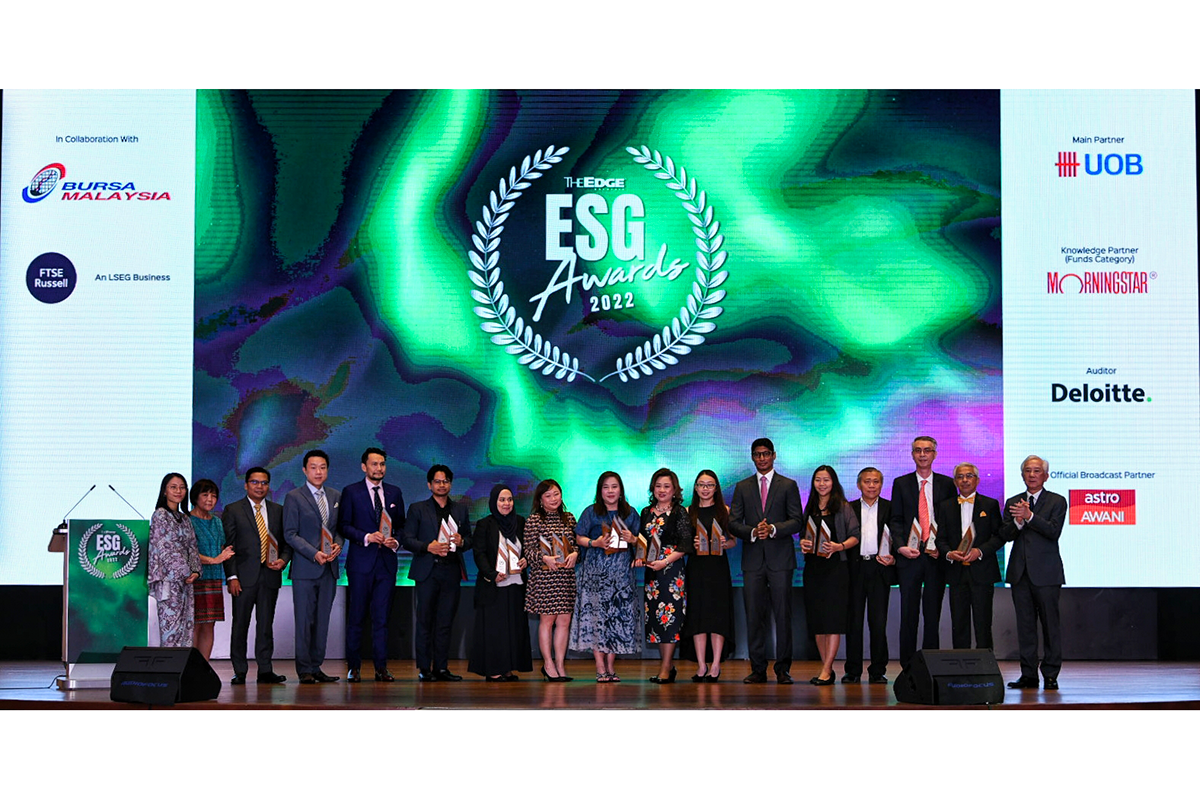 Winners of The Edge ESG Awards 2022 — funds category.
"To that end, we have entered a joint venture with the Companies Commission of Malaysia, where we have access to SME data and have a far more encompassing view, beyond just PLCs. We're taking the effort to recognise those who have been taking important steps going forward and also to encourage you to take those significant steps going forward too."
The Edge ESG Awards was organised in collaboration with Bursa Malaysia Bhd and FTSE Russell, with Morningstar as the knowledge partner for the funds category and Deloitte as the auditor. The main partner of the ESG Awards was UOB Malaysia, while Astro AWANI was the official broadcast partner.