KUALA LUMPUR (Sept 29): Shares of Malaysia Pacific Corp Bhd will be delisted from Bursa Malaysia on Oct 4, after Bursa Securities dismissed its...
KUALA LUMPUR (June 1): Reservoir Link Energy Bhd (RLEB) announced that the Securities Commission has approved its application to transfer its listing status to...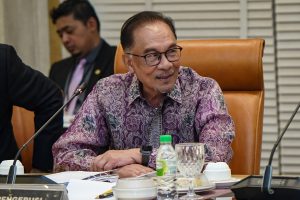 ASEAN Beat | Politics | Southeast Asia ...
Menteri Koordinator NIP Khairy Jamaludin berucap kepada pemberita semasa lawatan ke pusat vaksinasi bergerak untuk komuniti Orang Asli di Kampung Batu Peti, Jempol 1...
SINCE 2008, the Department of Statistics has been conducting surveys on domestic tourism and publishing a report for the previous year at the...
Authoritarian governments have weaponized online tools and platforms to control journalists and stifle freedom of expression. As the internet sector and mobile penetration increase...
Today is Federal Territory Day, which marks the official day that Kuala Lumpur became a federal territory under the control of the federal government,...